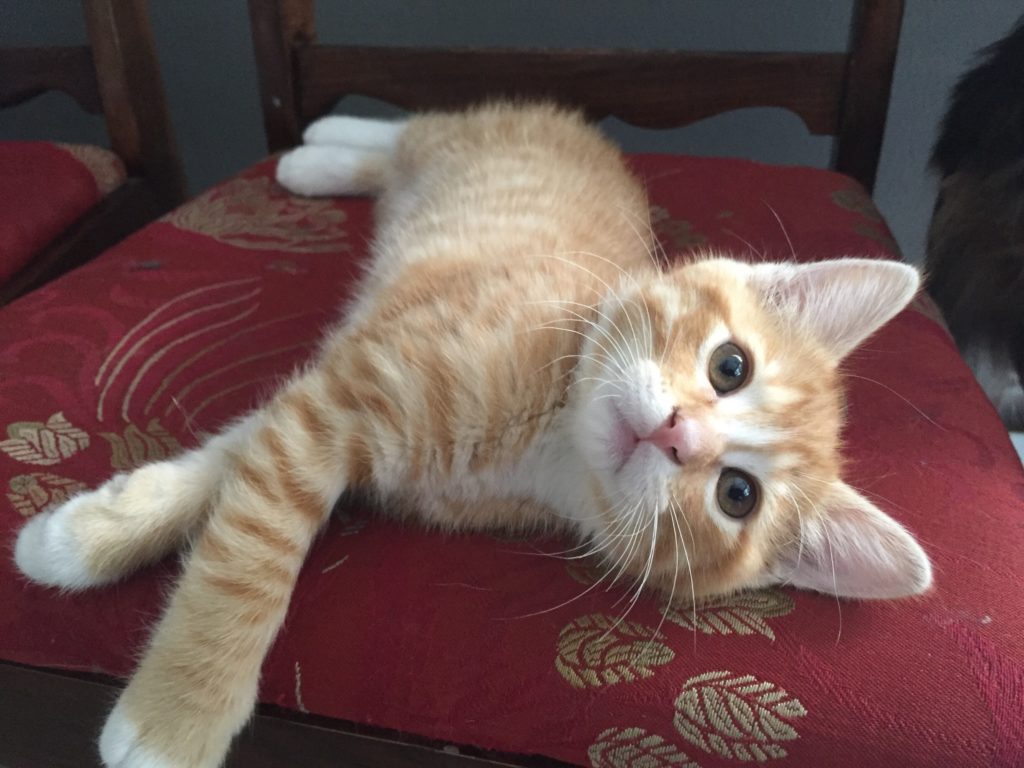 Meet Gus Gus the cat (a.k.a. Ali Baba). She has recently turned 1 year old, and has been a member of our family since she was about 7 weeks old.
She's got brains and personality. Lots of them.
What she doesn't have are hands capable of retrieving her playthings from under the sofa.
Last week, while preparing for house guests, I moved said sofa and vacuumed beneath. Here's an inventory of the items I found in Gus's cache:

Inventory:
10 pens/pencils (3 ball-point pens including 2 with caps and one without cap, two pencils, 2 fine markers, a Sharpie, a Micron pen and a red Expo dry-erase marker)
1 pen cap
6 straws, well-chewed
1 toy mouse
1 wine cork
5 screw-top bottle tops
1 plastic pull from a milk carton
1 piece of clear plastic from our window blinds
1 lemon Ricola cough drop
1 hard candy, wrapped
1 almond, in shell
1 hazelnut, in shell
1 AA battery
1 AAA battery
1 toy horse, saddled
2 tampons, wrapped
1 Burt's Bees lip balm
1 bell
2 ear bud ear pieces
1 hair pin
1 small rock
1 clove garlic, with little cat teeth marks in it
Related Photography Posts